Starting Your Home-Based Business
Article courtesy of Suzie Wilson:
From how to get started to the rules and regulations that might make or break your efforts, there is a lot to consider when planning a home-based business. And if you don't already have the space to do it, there are even more things to think about. The agents of Dumbbell Real Estate offer more info below.
Your Home Matters
Whether you are in the market for a new home or plan to use your existing real estate to run your business, you have to understand zoning. As Quicken Loans explains, zoning laws regulate land use. In other words, where your home is located – city, county, or even neighborhood – matters. For example, if you live in a strictly residential zone, you may not be able to have a home-based business that requires employees or customers to visit you in person.
Another strong consideration, particularly if you plan to build an accessory structure on your property for business use, is whether or not you are allowed to have a detached building. In most cases, you can, within regulations, add on to your main dwelling. However, some municipalities or homeowner associations may restrict secondary structures. Make sure that you let your realtor know your intentions before you begin a new home search.
It is also worth noting that if you want to protect your home from business losses, it might make sense to file for an LLC. If you do it yourself, it will cost much less than using an attorney or formation service, and you may enjoy some tax advantages, even if you use your home for work. Contact your local Chamber of Commerce to see if they can offer any advice.
Layout and Design
Obviously, location is a huge factor when planning a home business. But so too is your home. If you plan to operate from within your living space, RoomSketcher asserts that you can make the process go much more smoothly by planning ahead. First, discuss your idea with your spouse or partner in children. Let them know what rooms/rooms you plan to use for business and make it known that these are off-limits during working hours. It's almost always best to utilize a bedroom at the furthest end of your home so that you are not constantly interrupted by foot traffic, blaring televisions, and other distractions.
If your home is small, you may consider moving out to the garage, provided the area is wired for electricity and has a strong wi-fi signal so you can work without lag. The garage is a smart choice if you plan to fulfill orders at home and need a space to store inventory, but any room will do if you plan to utilize an order fulfillment service.
When you know the type of business you plan to launch, you can start thinking about how to set up your home office. At minimum, most businesses will require a computer, desk, and office equipment. You'll also want to make sure that your office is quiet during working hours and is conveniently located near a bathroom. Some home-based businesses don't require anything other than a laptop, internet, and power supply, but do confirm that your provider can handle any additional load you throw at it.
If you still have concerns about launching your home-based business, find someone that has been in your shoes and can advise you on the process. Ultimately, however, running a business from home takes some adjustment, but you can reduce your growing pains by looking ahead. First, make sure you can actually operate from your address and, just as importantly, designate an area that allows you to get your job done.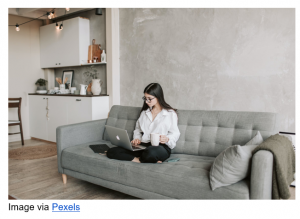 Thank you Suzie Wilson for providing this article to Peer 2 Peer Real Estate
You can contact Suzie: Suzie Wilson ⎸info@happierhome.net  ⎸Happier Home